Plants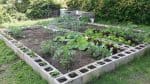 Address:
3815 E 17th St N, Wichita, KS
67208
Biography:
Fairmount Coffee Company Community Garden is located on the southwest corner and is a raised bed. We have herbs, lettuces, and summer veggies that we utilize in our dishes in the coffeehouse whenever possible. We began in March 2018 and are brand new, but are working to create community and education by growing in our garden. Address:
90315 SE 30th Ave Sawyer, Kansas
67134
Category:
Animal Products, Artisan Bread, Baked Goods, Cut Flowers, Eggs, Farmers' Markets, Food Makers, Fruit, Herbs, Jams & Jellies, Plants, Produce, Produce & Plants
Biography:
A 4th generation family farm, we have organically grown vegetable plants and flowers for sale, local honey & homemade jams and jellies, including Sandplum. Address:
7026 S West Rd Sedgwick, Kansas
67114
Biography:
6-7 generation Family Farmers that offer a wide variety of chemical free herbs and produce. In the off season, the family produces pottery by hand, often following the market and dining theme.