Sweet Corn Address:
9820 S Hillside Haysville Kansas 67060
Biography:
Daniel sells the beef by bundles which is 1/8 of a beef and up to a full beef. Sweet corn sells by the dozen during the summer. Address:
21287 Wichita Rd, Chanute, KS
66720
Biography:
We grow many kind vegetables, squash, peppers, root crops, and more!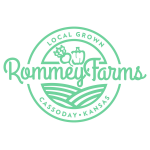 Address:
7261 NE 140th, Cassoday
66842
Biography:
Rommey Farms is the choice for local, fresh produce to feed south central Kansans. We are small growers supporting sustainable agriculture in the heart of the Flint Hills, 4 miles west of Cassoday, Kansas. Now in our 4th season, we have a vibrant Community Supported Agriculture program serving over 31 families weekly. The farm has supplied 3 food vendors and contributed to a Farm to Table dinner for Susan B. Allen Memorial Hospital. Selling at the Original El Dorado Farmers Market , Kechi's Farmer Market and the Wichita Old Town Farmers Market. In 2016 my husband Don and I had a vision to use our farm to feed our local communities. Since its beginning establishment, we have served 31 families through our Community Supported Agriculture program, worked with restaurants and food suppliers. Our vision is to bolster local and rural economies and create an option for local food to strengthen and help diversify our food system. To build a community that values local farmers, good food, soil and water, and learning.