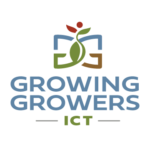 WICHITA – Growing Growers ICT is entering its third year with a revamped structure and new learning opportunities, beginning with two upcoming free virtual workshops.
Based at K-State Research and Extension – Sedgwick County, the program provides innovative specialty crop education and helps connect new and experienced fruit and vegetable growers.
The first two virtual workshops of 2021 will be from 1-4 p.m. on Monday, March 29, and Monday, April 12, through Zoom. The workshops will cover soil health and crop planning, which are foundational topics for anyone starting a farm or garden project, no matter the size. These events are free and interested individuals should register online for the crop planning workshop and soils workshop.
To stay up to date on workshops and events this season, submit a brief interest form to be the first to know about every learning opportunity.
Growing Growers ICT is expanding in 2021 to include education for nonprofit garden startups.
"Previously, we focused the program on educating people who want to start farm businesses, but we learned that people starting garden projects in their organizations, communities and schools also want solid grower education," said Lyndsay Feather, program manager.
There are still many opportunities for people starting for-profit farms, including business management and marketing workshops, Feather said.
The program also is pursuing a hands-on coaching approach with participants to maximize their opportunities.
"We hope that meeting personally with participants from the start — hearing about their dreams and ideas — will help us better connect them to events and other growers who can help them succeed," Feather said.
Participants can choose what pathway works best for their stage of life — from attending a handful of workshops to apprenticing all season with an experienced grower.
Events this year include a six-part core workshops series covering essential farming basics such as soil and pest management, as well as many smaller, informal sessions such as farm tours, demonstrations, hands-on activities, field days and more. See a full list of events at ictfoodcircle.org/ggevents.
"There's something for everyone," Feather said.
Michael Pankratz participated in Growing Growers ICT workshops in 2019 and says they "highlight the many facets of running a small farm." He especially enjoyed the farm tours, as "each [one] was unique, with creative solutions to various problems."
Pankratz is looking forward to an apprenticeship this year, "because the best way to learn is by doing." He is in the process of starting a fruit and vegetable farm in Goddard and is eager for the Growing Growers program to help him get his business off the ground.