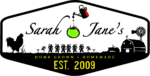 Biography
2009: Sarah Jane found herself laid off from the aircraft industry with one small child and another on the way. As a family they decided her staying home with the children added more value than a weekly paycheck. She planted a garden and canning became a part of that to fill the pantry for winter. Many times she would have a surplus and shared with friends who wanted to pay her for the goodness she was giving them in jars, so….the venture of Sarah Jane's was born.
2017: Sarah's husband, Shane, joined the business full time to help manage the continued growth. Shane & Sarah say working together as a team has allowed them to overcome more obstacles. Their children, Regan & Zane are also frequently seen helping at the shop in Argonia.
Sarah Jane's creates a variety of gourmet jarred products as well as delicious take and bake meals at their shop on Main Street in Argonia. If you visit, you may peruse their selection of Kansas made products, meet the makers of Sarah Jane's delicious goodies, and tour the facility. Visiting Tip: Ask for Zane, he gives the best tours!
Sarah Jane's is dedicated to creating intense gourmet flavors with locally sourced ingredients. When you purchase their products you are not only supporting local growers but also a Kansas family with inspirations of fantastic food and living life without regrets. Thank you! ~ Sarah Jane, Shane, Regan & Zane
Contact name: Sarah Jane May
Send Message to listing owner