This is a Part 2 of our series on Kansas wheat. For more on the origins of the wheat that makes our state great, see our blog from last week: Roots in Kansas Wheat Run Deep.
In the mid-19th century, almost every community had a grain mill of some sort to provide a valuable service in the production of flour, cornmeal, feed for livestock and basic staples for the households and communities. The earliest mills used stone burrs as grinders – many of which were located along streams, on high ground, or along the new railroad lines reaching into Kansas.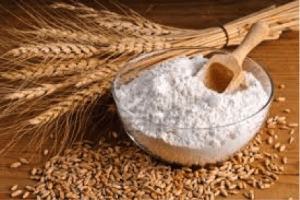 By the 1920s, Kansas grew 15 percent of the total world's supply of wheat, and most of it left the state as flour. As a result, the state did not really become known as a wheat state but a flour state, greatly boosting the Kansas economy. All of this had major impact on the regional economy, transforming wild cowtowns into market and transport centers and industrial mill towns.
Given the fact that wheat had become such a major export by the early 1900s, the typical free standing, family-owned mill was virtually eliminated. Many – like the Old Oxford Mill – remain today only as a ghost of Kansas' wheat origins.
Kansas History in the Old Oxford Mill
Oxford, Kansas is known for The Old Mill. The mill was built in 1874 by D. N. Cook and John Hewitt. A three mile race was hand dug parallel to the Arkansas River. The water running through the mill race provided the electricity necessary to run the mill. A dam was built across the river to help the mill grow. The mill's flour and cornmeal supported the slogan "Oxford's Best". In 1910, Charles Champeny bought the mill in which he worked until he passed away. The Old Mill has since been restored by its owners and was placed on the National Historical Register on April 26, 1982. (Source: Official website of Oxford, KS)
Kansas Bread Recipe
Courtesy of the Kansas Wheat Commission and the National Festival of Breads
Makes 1 large loaf.
INGREDIENTS
1 (1/4 ounce) package active dry yeast
½ cup warm water (110°F-115°F)
½ cup milk
2 tablespoons granulated sugar
2 tablespoons vegetable shortening
1 teaspoon salt
2 ¼- 2 ½ cups bread or all-purpose flour, divided
Glaze-1 egg white plus 2 tablespoons water
DIRECTIONS
In large mixing bowl or bowl of stand mixer, dissolve yeast in warm water. Stir in milk, sugar, shortening, salt, and 1 cup flour. Beat well, about 2 minutes.
Add enough remaining flour until soft dough forms. Form into a ball, cover, and let rest 10 minutes.
Knead dough by hand or with dough hook until smooth and satiny, about 8 minutes. Place in lightly greased bowl, turning dough to grease entire surface. Cover, let rise until doubled.
Punch down dough. Roll or pat into a rectangle about 15" x 6" and roll starting on long side, sealing with each roll, as for a jelly roll or cinnamon rolls. Taper ends. Place on lightly greased or parchment-lined half-sheet pan or large cookie sheet.
Cover, let rise until nearly doubled, about 30 minutes.
Make slashes every 2 inches across top surface with a sharp knife or lame. Brush with egg glaze. Bake in preheated 400°F oven for 25 to 30 minutes. Serve warm.
Yield: 1 large loaf, 22 servings.
Nutrition Information Per Serving (1 slice, 28g): 70 calories, 1.5g fat, 0g fiber, 0g saturated fat, 0g trans fat, 12g carbohydrates, 0mg cholesterol, 110 mg sodium, 2g protein, 0mg vitamin C, 1mg iron, 9mg calcium.