Hildebrand Farms Dairy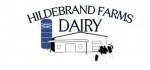 Name:
Hildebrand Farms Dairy
Biography:
It all began with the idea of making a better life for their family with the purchase of 4 dairy cows in 1930. Generations and decades later, the Hildebrand family continues the dairy farming legacy by bottling, distributing and marketing their own milk, cream and butter. They built an on-site processing facility in 2008 and have been a proud Dillons partner since 2009. They are centered around the belief that happy cows make delicious milk. Thus, the care and comfort of their cows is of utmost importance, which is why they do not treat their cows with growth hormones*. To preserve the flavor and freshness of the product they bottle only in glass and process the products as minimally as allowed. Hildebrand Farms Dairy is located west of Junction City and is open to the public 6 days a week giving customers the chance to truly see how their milk is created.
*FDA states there is no significant difference between milk derived from rBHT treated and non-rBHT-treated cows.
Send Message to listing owner
Listing Title: Hildebrand Farms Dairy