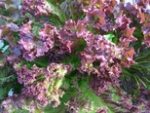 Biography
Locally Grown
Our lettuce is grown by our family on a farm just outside of Derby (see the map on our home page). We sell locally and participate in local farmers' markets.
Pesticide, Insecticide Free
Enjoy your lettuce and just your lettuce: We do not use any harmful chemicals on our lettuce! This includes non-organic pesticides and insecticides. Your lettuce is the best and freshest it can be, without anything harmful added.
Nutritional and Delicious
Our lettuce provides many essential nutrients and vitamins including (but definitely not limited to) calcium, magnesium, iron, potassium, sodium, vitamin C, vitamin A, vitamin K, riboflavin, niacin, fiber, and folate.
Available all year!
Because we grow our lettuce hydroponically, we are able to grow and sell our lettuce in all seasons, even in the summer, when the sweltering heat would normally kill traditionally-grown lettuce heads!

Send Message to listing owner