We are squarely in the middle of the "spring" (read: summer) beet season here in south central Kansas. Beets are typically planted in the early spring for harvest in early to mid-summer. Then a second crop is planted in late July for fall harvest.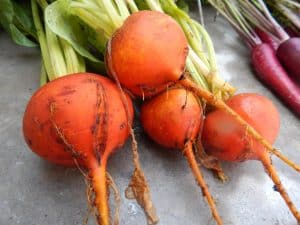 I never liked beets growing up. We boiled them or boiled them with the saucy stuff. Ugh. Then I grew up and was introduced to roasted baby beets mixed with other root veggies and seasoning. Yum. And gold and white and candy stripe beets. Yum. And then I got crazy and went down the – beet smoothie, beet ice cream, borscht, beet pickles – happy path to beet-land.
And then kids came along. And life got crazy. And beets…well, here's the dirty secret about beets. As delightful as they are once you find a way you like to eat them, almost any recipe or preparation other than "cook and eat" requires the first step of roasting or steam-boiling or par-roasting or some other cooking process. Because beets are hard and crunchy, and to do fun things with them, you have to cook them first. And it's not fast – it can take 1+ hours to roast some beets to the fork-tender stage. So not only do you have to find time for your beet recipe, you also have to find time to cook the beets first and then make your recipe. Beets didn't fit into my schedule, as much as I wanted them to.
Then this past fall, we added an electric pressure cooker to our stash of kitchen appliances. And a few weeks ago, I was looking at the beautiful piles of beets at the farmers' market, and realized…I can do those in the pressure cooker.
Ironically, the pressure cooker isn't much different from the boiling that I scorned in my childhood. But it does get the beets cooked and ready for the next step faster, and fast is more important than the beautiful flavor profiles of roasting.
Here's the quick directions: trim, halve or quarter the beets (depending on the size), and put them in a pressure cooker with one cup of water. Seal and cook on high pressure for 20 minutes. Quick release the pressure. Then you can let the beets cool a bit and easily slip the peels off. Super easy, relatively fast, no hot oven during the summer.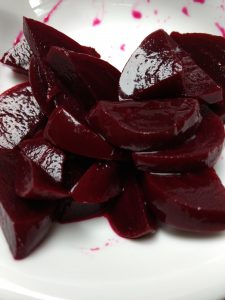 Once your beets are cooked, the sky is the limit for beet recipes. The first thing I tried? Refrigerator beet pickles.
1. Slice the cooked beets.
2. Mix 1 part apple cider vinegar and 1 part water. (Enough to cover the beets.)
3. Place vinegar and water in a saucepan. Add one cinnamon stick, a pinch of salt, 1/3 cup of sugar, and a teaspoon of whole cloves or whole allspice. I didn't have any allspice and only a single lonely clove, so I substituted a whole star anise pod.
4. Bring the mixture to a slight boil and make sure the sugar is fully dissolved.
5. Pour over the sliced beets and refrigerate for 24-48 hours for flavors to develop.
The result? Yummy home pickled beets that took a little time, but a lot less time than they could have.