Veal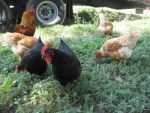 Address:
4790 11th rd., Udall Kansas, 67146
Biography:
Faye Farms is a small family farm located in Udall, KS which is owned and operated by Mark and Heather Faye.  Mark and Heather didn't start their farming careers in Kansas.  Their farm was originally located in Bayfield Wisconsin.  With a desire for a warmer climate and better farming conditions they moved their entire farm 900 miles south in June of 2007. They moved 120 head of dairy cattle, 9 hogs, 3 boys, and 1 dog!
Faye Farms embraces diversity and strives to raise their livestock in a slower and simpler manner.  Their animals are raised outdoors to harvest the benefits of green grass, fresh air, and sunshine.  Mark and Heather work to raise their animals in their natural environment, yet they are provided shelter for inclement weather, and may be confined for brief periods for their protection. They look to heritage breeds such as Ayrshire cows and Hereford pigs to help them achieve their goals.  While they are not new to farming, their farm is a work in progress. Projects and experiments keep things interesting!