Biography
The Dale family roots run deep in Comanche County. For over 100 years, the Dale family has earned their livelihood from the land. The foundation for this longevity has been and continues to be our forage resources of native grass and alfalfa coupled with a commitment to be good stewards of these resources. As we strive to remain sustainable, we understand that we must better utilize these resources through improved grazing practices and reduced reliance on fuel and equipment. Over the last few years, we have realized that letting our animals remain in their natural environment – doing what they do best, grazing – will be our key to sustainability and another 100 years for Dales on the family farm.
Address
526 Ave. K, Protection KS, 67127

Biography
Proudly serving Kansas Heritage meats. With everything for Black Angus hand selected by Creekstone Farms to Heritage Breed Chicken and Duck Eggs to Heritage Rabbit, our modern butcher shop takes pride in the quality and care that our farmers take in preparing the best meats and town. Also enjoy some of the artisan food prepared as well!
Address
1113 E. Douglas Ave. Wichita, Kansas 67211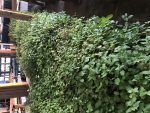 Biography
We are located just east of the town of Cheney, Kansas 20 minutes from West Wichita. We have hay, straw, compost, farm fresh eggs, and produce for sale.